Velkommen til TRÅKKEMASKIN.NO!
Husk å opprette din egen profil! Da kan du selv delta i diskusjoner og legge ut bilder! Det er helt gratis! Se i menyen til venstre; Bli medlem!
LEITNER - The Perfect Wave beyond the Sea
LEITNER ropeways, together with Wavegarden, the market leader in artificial wave generation, has developed a system to create the world's longest artificial surfing wave using ropeway technology. The wave breaks naturally, just like on a sand bar or reef, and can be regulated with respect to both size and speed.
Kässbohrer- SNOWsat fleet growing rapidly!
17 snow groomers have been equipped with SNOWsat from Kässbohrer Geländefahrzeug AG just this year in Switzerland's Jungfrau ski region with its unique and world-famous panorama of the Eiger, Mönch and Jungfrau.
Building The Behemoth: Behind The Scenes Of The X Games 2015 Course
By: Heather Hendricks Under the light of a bright, sunny day, the base of Buttermilk is bustling with crews working on different areas of the Winter X Games 2015 courses, dialing in everything from the angle of the towering lights used to illuminate the pipe, to scaffolding on the side of the pipe, and the sound and picture on the spectator screens to ensure everything is primed for the week of big events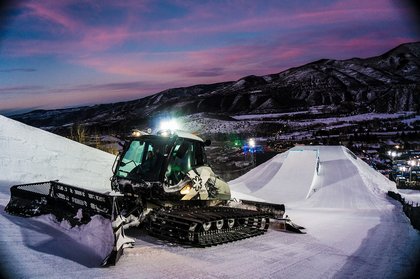 LEITNER ropeways Press Release- Paying homage to the Hahnenkamm Slalom
The lift has set an extraordinary benchmark by turning into a symbol of remarkable sporting achievements. The four-seater chairlift constructed by LEITNER ropeways on the renowned Ganslernhang, a piste famous for hosting major competitions, has been transformed into an unmissable homage to the Hahnenkamm Slalom and its champions. Each chair has been adorned with its own Hahnenkamm art poster representing a specific year in the history of the world's most famous ski race. The unusually designed chairlift, which was jointly created by LEITNER ropeways, Bergbahn AG Kitzbühel and the Kitzbüheler Ski Club, was presented during this year's inspection of snow conditions by the International Ski Federation (FIS) in Kitzbühel on January 9, 2015.
Pisten Bully - 20,000 – a red success story
2014 is a year of celebration for Kässbohrer Geländefahrzeug AG. Not because it marks a notable birthday. But because the 20,000th PistenBully was built in September. It was 1968 when the idea began and 1969 when it was realised.... Who would have thought back then?
Bildegalleriet har 23030 bilder!
Velkommen til Tråkkemaskin.no! På denne siden finner du den største oversikten over bransjenytt, det største bildegalleriet, den ferskeste diskusjonen og mye seriøs fakta!
Siste 20 Screeners Choice