Fersk snø- og åpningsrapport
Lagt til av: Ole Kristoffer Hole Olsen | publisert: 24.10.2006
Flere skisentre har nå fastsatt en dato. Snart er det ski- og snowboardsesong!
Trykk for større bilde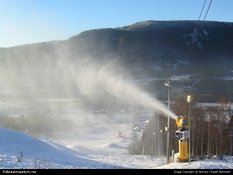 Her fra Hafjell i 2005 © Espen Børresen

Trysil
Har snøgaranti fra 15. november. Det er fortsatt mildt vær, men det ser kjøligere ut mot ukeslutt.

Bjorli skisenter
Har foreløpig ikke satt noen åpningsdato, men sier de skal åpne i slutten av oktober.

Gaustadblikk
Har fortsatt ikke noe snø, og heller ingen antydning til åpningsdato.

Hemsedal
Har ikke fått noe mer snø i oktober. Fortsatt plan om å åpne 11. november.

Kvitfjell
Har satt ny åpningsdato. Forrige uke skrev friflyt.no at Kvitfjell hadde planer om å åpne skisenteret 28 oktober. Denne datoen har nå blitt flyttet til 4. november. Dette på grunn av mildt vær.

Kilde: friflyt.no

Gallery has 23081 photos!
Welcome to snow-groomer.net! On this webpage you will find the biggest picturegallery, the newest discussions and a lot of serious facts! The english version is brand new, and expected to grow quickly!