Fine forhold på Geilo
Lagt til av: Espen Børresen | publisert: 04.12.2007
De siste dagene har det kommet ca 50 cm herlig nysnø på Geilo som nå kan by fantastiske forhold i alpinløypene. Hele 12 løyper, 10 heiser og 10,2 km skikjøring er åpnet, og flere nedfarter blir åpnet fortløpende.
Trykk for større bilde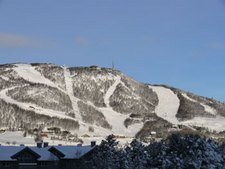 Geilo 4. desember 2007 © www.skigeilo.no

Starten på årets sesong har vært meget bra og Geilo Skiheiser kan vise til en meget pen vekst i november sammenlignet med sist sesong.

De gode forholdene på Geilo gjør at vi har besøk av treningsgrupper og landslag fra store deler av Europa og denne uka arrangeres det FIS-renn med over 250 deltakere fra 19 ulike nasjoner.

Langrenn
Geilo kan friste med hele 35 km preparerte langrennsløyper og meget gode forhold.

Kilde: www.skiinfo.no

Gallery has 23081 photos!
Welcome to snow-groomer.net! On this webpage you will find the biggest picturegallery, the newest discussions and a lot of serious facts! The english version is brand new, and expected to grow quickly!