Hafjell deles i to
Lagt til av: Espen Børresen | publisert: 10.11.2007
Hafjell har vokst seg ut av sine sko og støvler. DnBNor Hafjell gjør nye grep for å gjennomføre en av de største utbyggingene i sitt slag rundt toppen av gondolen.
Trykk for større bilde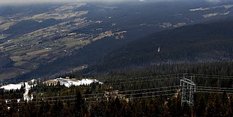 Til høyre for snøen kommer tidenes utbygging i Hafjell. © Torbjørn Olsen

ØYER: Formelt sett er det snakk om en fisjon, en deling. Hafjell Alpinsenter AS deles, men skal bestå som et rent alpinsenter som skal drive med snøproduksjon, bakker, heiser og alt som hører alpinvirksomheten til.

På toppen av de samme bakkene kommer Moesetertoppen AS. Det selskapet skal bygge ut Moesetertoppen for en foreløpig ukjent sum. Selv om området ikke er regulert foreløpig, er det grunn til å tro at området vil gi plass til nærmere 700 hytter og leiligheter.

Hafjell Holding AS eier begge selskapene fullt og helt. Og DnBNor eier Hafjell Holding like fullt og helt.

Kilde: www.gd.no
Gallery has 23084 photos!
Welcome to snow-groomer.net! On this webpage you will find the biggest picturegallery, the newest discussions and a lot of serious facts! The english version is brand new, and expected to grow quickly!