Sirdal/Ådneram - Gode snøforhold på toppen
Lagt til av: Ole Kristoffer Hole Olsen | publisert: 07.01.2007
Endelig kan alpintfolket i Sirdal stråkke på seg slalåmskiene; først ut med åpent trekk er Ådneram.
Trykk for større bilde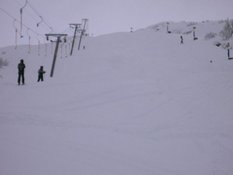 Gode forhold på Fjelltrekket i Ådneram © Ånen Ådneram

Ånen Ådneram, daglig leder i Ådneram skitrekk, kan melde om gode snøforhold i det øverstre trekket, som altså åpnet søndag. Snødybden på toppen er 35 centimeter.

- Men været ble noe surt, så det er ikke så mange i bakken, sier han.

Ådneram håper at trekket skal være åpent, iallfall til neste helg.

Hilde Voldsund i Sirdalsferie bekrefter at Ådneram foreløpig er først ut blant trekkene i Sirdal.

- Det snødde i natt, og har snødd i hele dag, dermed ble det bedre enn værmeldingen varslet, sier hun.
Gallery has 23084 photos!
Welcome to snow-groomer.net! On this webpage you will find the biggest picturegallery, the newest discussions and a lot of serious facts! The english version is brand new, and expected to grow quickly!