Ny tråkkemaskin til Alta kommune
Lagt til av: Espen Børresen | publisert: 24.04.2010
Endelig er den her - kommunens nye tråkkemaskin.
Trykk for større bilde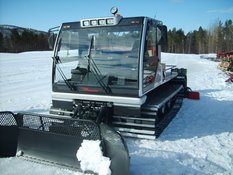 ©

Alta kommunes nye tråkkemaskin er endelig ankommet Alta. Maskinen er en Prinoth Husky levert fra firmaet Trygve Owren AS.

Tråkkemaskinen koster kr. 1 450 000. Tråkkemaskinen er finansiert gjennom et spleiselag. ALI og Alta kraftlag gir hver kr. 200 000. Folkehelseprosjektet i Finnmark gir kr. 50 000. Alta IF, Alta skiskytterlag, BUL, Frea IL, Tverrelvdalen IL, Finnmarksløpet AS og Bedriftsidretten gir kr. 12 000 hver.

Alta kommune vil med ny maskin kunne fortsette å lage gode skiløyper til byens befolkning. Gode skiløyper en en viktig del av kommunens satsing på folkehelse.

En ny maskin med god driftssikkerhet vil også gjøre det mulig for byens skiklubber å påta seg store ski- og skiskytterarrangementer. Slike arrangementer har over år markedsført Alta på en fremragende måte for deltagere og ledere fra hele landet.

Kilde: www.alta-kommune.no
Gallery has 23081 photos!
Welcome to snow-groomer.net! On this webpage you will find the biggest picturegallery, the newest discussions and a lot of serious facts! The english version is brand new, and expected to grow quickly!