Knakende bra i Fageråsen
Lagt til av: Espen Børresen | publisert: 24.04.2010
For denne tiden på året er føret i Fageråsen knakende bra. Norges største skisted, Trysil, holder heisene i gang til 2.mai.
Trykk for større bilde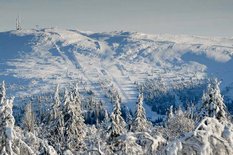 © trysil

Våren har vært snill mot bakkene i Fageråsen, på nordsidenav Trysilfjellet. Her har ikke vårsmeltinga kommet skikkelig i gang, ogkombinert med noen kalde netter har dette ført til at skiføret er veldig bra.Sørsiden av Trysilfjellet stengte forrige helg, men i Fageråsen er det fortsattgode muligheter for skikjøring, med god plass i bakkene og rimelig overnatting.

Skal du til Trysil nå er det smart å bestille overnatting ved TrysilHøyfjellssenter, Fageråsen Panorama, Trysil Høyfjellsgrend, Kvilsten, AaasgardFjelltun og Trysiltoppen. Her har du god standard, lave vårpriser ogtransportløyper som tar deg rett til bakkene. Fageråsen har 8 heiser og 18 bakker åpne.


Kilde: www.skiinfo.no
Gallery has 23081 photos!
Welcome to snow-groomer.net! On this webpage you will find the biggest picturegallery, the newest discussions and a lot of serious facts! The english version is brand new, and expected to grow quickly!