Innovative design and great comfort on the famous Sella Ronda
Lagt til av: Espen Børresen | publisert: 20.03.2013
LEITNER ropeways is renovating the Dantercepies ropeway in Val Gardena. When the most highly frequented ropeway system in the Val Gardena valley is renovated, the demands are exceptionally high. The new Dantercepies ropeway from LEITNER ropeways will not only offer higher capacities, greater ride comfort and lower noise levels. With its unique architecture and the materials used at the stations, it will also blend perfectly into the landscape of the Dolomites.
Countless winter sports athletes and hikers know the Dantercepies ropeway, which connects Selva Gardena with the Passo Gardena. Due to its strategically important location, the installation is an essential element in the world-famous Sella Ronda. From the coming winter on, skiers and snowboarders will be able to travel around the Sella massif in a more speedy
and comfortable fashion. LEITNER ropeways is implementing a new ropeway project which will be groundbreaking thanks to its unique combination of high-tech and design.




The Dantercepies ropeway is the most frequently used installation in Val Gardena. On days with high numbers of visitors, there are currently long queues and the small spaces at the stations are crowded with too many people. With the new GD10 gondola ropeway, which has a capacity of 3,000 people per hour, passengers can soon look forward to much quicker and more comfortable rides and shorter queuing times. The project will also pay special attention to allow boarding on the gondolas as easy and comfortable as possible. To ensure this, the valley station will be lengthened by five meters and the speed during access will be reduced to 0.22 meters per second. This gives passengers more time to board the cabins. By moving
the engineering rooms underground, additional noise is prevented and a more relaxed atmosphere is created. The cabins on the new ropeway will offer added comfort thanks to panoramic windows and comfort seat padding. They are very spacious and allow transport of bikes and baby strollers in summer. The new ropeway will contribute considerably to the attractiveness of Val Gardena as a travel destination. Thanks to their unique architecture and design, both stations will blend discreetly and harmoniously into the landscape. This way, the ropeway system also shows consideration for the Puez-Geisler nature reserve, which is in the immediate vicinity.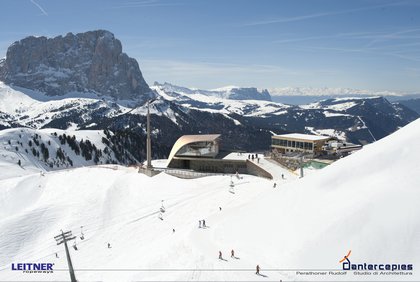 Panoramic windows in the cabins and the stations
The stations are characterized by three elements. This includes the concrete, which has a very natural effect thanks to its special grain mixture of Dolomite rock and its rough surface. The generous use of wood creates a warm and inviting atmosphere. And finally, the panoramic windows with large glass panes allow plenty of light to enter and offer perfect views of the UNESCO World Natural Heritage site of the Dolomites. The fact that passengers have excellent views from the stations as well as the cabins is one of the special advantages of the new ropeway system. This is also emphasized by the unusual shape of the top station roof, which opens like a sail onto a spectacular Dolomite panorama. The innovative architecture also allows space to be saved while ensuring high functionality.
The importance of the design for the new ropeway is also stressed by Giovanni Pasti, director of the Seggiovie Dantercepies SpA operating company: "The key reason why LEITNER's tender was accepted was that they were able to offer solutions that ideally met the high architectural demands." The new Dantercepies ropeway is planned to open on December 7, 2013.

Source: LEITNER pressrelease