Masters World Cup: a great Ski Festival, with Bjorn Daehlie as spokesperson.
Lagt til av: Espen Børresen | publisert: 20.03.2013
Asiago 2013 MWC organization is fully satisfied of tracks quality, thanks to Alpina Snowmobiles state-of-art technology.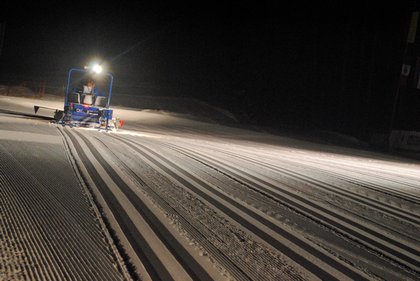 In Asiago (Vicenza province – Veneto region – Italy) the curtain has been lowered over this year's most important ski event, the 2013 MWC (Cross Country Ski Master World Cup). With the closing ceremony, in February 22nd, Asiago has officially passed the "baton" to St. Ulrich am Pillersee (Austria) hosting the WMC in 2014.

It has been a successful sport meeting, thanks to the combination of many factors.




The organization: - a young and farseeing team, has been supported by a group of experienced men, including the local Mountaineer Troops Association (Gruppo Alpini di Asiago) and over 200 volunteers.

The weather: - after a reluctant January, February has finally covered Asiago's highland with plentiful snowfalls, even during the event. The venue, the picturesque hills surrounding the Asiago Golf Arena, became the perfect scenery for this international nordic event.

The machines: - two PB100 and one Alpina Sherpa 1.6Ti-VCT 16-valve, equipped with F250 track-maker system, have been the fleet fully involved in the preparation of the ski trails for classic and free technique. While the two snow-groomers have been shared between the race trails and the tourist trails still open to the public during the event, the Sherpa has had a busy life working in the ski arena, to set start and finish lines, plus setting tracks in the test area, and in general working to complete and touch-up the trails, specially in the narrowest points. The challenge of setting 22 start lines in the narrow ski arena has been a specific task of the Sherpa, thanks to its variable distance between the two track-setters. The 22 start-lines were set at about 1 meter each other, with 11 passes of the Sherpa, personally driven by the track-director Alberto Pertile. Comments to the compactness and smoothness of the tracks set with the Sherpa + F250 have been enthusiastic: the Alpina Vibra-Cut System (tm) on the F250 creates a firm and precise track, and overall linear, without the sudden changes of direction typical of skid-steering machines.
The Sherpa was also used pulling a Transalp trailer to move tons of materials necessary to set-up the race venue, and was used to transport the race-staff along the trails, as well as the TV crew, thanks to its 3-seats kit installed back on the Sherpa cargo platform.




Alpina will show its machines at Interalpin 2013, Hall B.0 / Stand B002.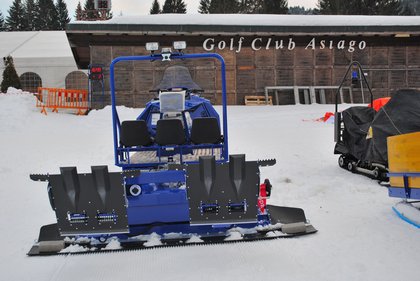 Sources:
www.alpina-snowmobiles.com
http://www.world-masters-xc-skiing.ch/mambo/en.html
https://www.facebook.com/pages/Alpina-Snowmobiles/202504163164013
www.mwc2013.com
https://www.facebook.com/MWC2013