Leitner: Tbilisi from a bird's-eye view
Lagt til av: Espen Børresen | publisert: 02.07.2012
A new ropeway from LEITNER ropeways improves the quality of life
Tbilisi, the capital of Georgia, has many sights to see. The newly-opened LEITNER ropeways gondola makes it much easier to reach parts of the city, such as Old Tbilisi. The ropeway itself is an attraction. The trip up to the Narikala fortress offers unusual views of Tbilisi, with the gondola's glass bottom and real leather seats. This provides further evidence on how modern cable cars can solve tourism duties efficiently, and increase the attractiveness of a destination.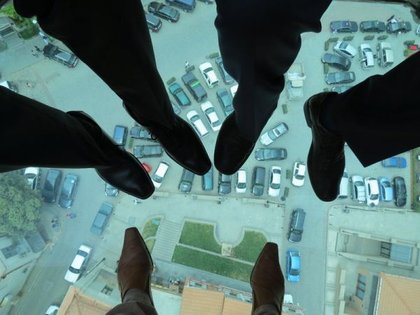 The medieval fortress of Narikala sits on a ridge above the old city of Tbilisi, and is one of the most popular destinations and photo opportunities in Georgia's capital. Those who wanted to visit the old castle and the neighboring church had a long foot march in the past. This has changed with the opening of the new 8-seater gondola on June 18, 2012. Visitors and locals can now easily reach the famous castle. The monocable gondola lift represents a combination of urban and tourist benefits. It is unusual and innovative from many points of view. In addition to the basic idea of people transport, the cable car also offers an extraordinary ride experience. The glass floors in the cabins provide exciting views of the old town and the traffic the seats are furnished with real leather seats, on which the historical themes of Tbilisi are printed. This is in perfect harmony with the destination. Once at the fort, visitors can expect to find an impressive view of Tbilisi and the Botanical Gardens.

More ropeways means fewer cars on the streets
In technical terms, this new ropeway is exceptional. At the top station, space is extremely limited. Therefore, setting the piles was complicated by the need to use two cranes for placement. Support tower number two at the river bank was accomplished with four piles, each 18 meters high. The authorities in Tbilisi are very pleased with the new ropeway, and contributed a good and harmonious collaboration with LEITNER ropeways the professional accomplishment of the project was very well-received.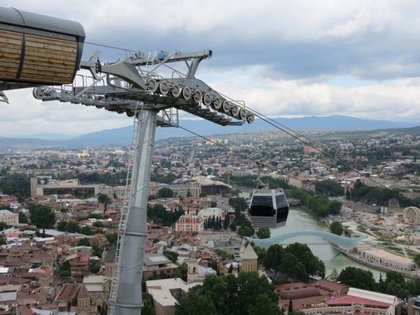 The cable car to the Narikala Fortress is an important part of a long-term approach. A large part of Old Tbilisi is restored, and made more attractive for both residents and visitors. The architect and project coordinator for the new ropeway, Manuchar Makhatadze, has concrete plans for additional ropeways, which in his opinion offer the best conditions for such solutions. Thus a long tradition is revived and continued. Because of Tbilisi's hilly topography, ropeways are needed to conquer height differences of up to 700 meters. New ropeways will contribute to reducing the high number of taxis and small busses in the city centre, and reduce pollution in the atmosphere. LEITNER ropeways' first gondola lift in Tbilisi therefore contributes to improving the quality of life.

Source: Leitner Press-release