Emirates Air Line - Dopplemayr Cable car for London
Lagt til av: Neil Robertson | publisert: 14.05.2012
The new cable car is due to start carrying passengers this summer, just in time for the Olympics. Gondolas will glide over cables suspended between 300ft white pillars and ferry Olympics spectators between two of the Games venues - the 02 Arena on the south bank of the Thames and the ExCel exhibition centre in east London.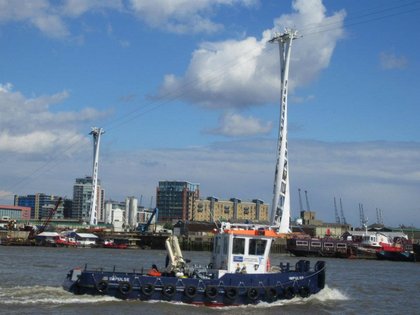 The cable car is a spectacular architectural addition – the first of its kind in UK – and a much-needed river crossing in the area, cutting travel times to five minutes.
 
The complex project involves stretching 50-millimetre steel cables more than one kilometre between steel towers 90-metres high. The cables will carry 34 cabins, each capable of carrying 10 passengers, and provide a low-emission, quick, direct and fully accessible link connecting the Greenwich Peninsula and the O2 with the Royal Victoria Docks and the ExCeL.
The three towers were manufactured in Bolton and have been erected in sections via crane. At around 90m tall, the South Tower is the only tower to have been built in the River Thames next to one of London's key landmarks, the O2. Each tower has been topped with a Doppelmayr 'head' which allows the cabling to run across the tops of the structures. The cabling, made of twisted steel comprised of nearly 300 separate strands of steel and 50mm thick, stretches 1.1km across the river. It was pulled into place and tensioned using a 12-tonne winch located on the platform of the South Terminal (Emirates Greenwich Peninsula). The cable has now been clamped and secured at each station and tensioned to gain a minimum clearance of 55m above the Thames.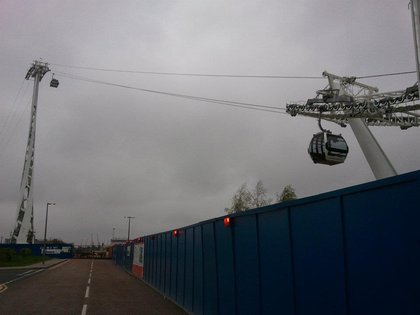 http://www.youtube.com/watch?v=Q6MdmoV8YgU&feature=youtube_gdata_player

source : Ropeways.net and dailymail.co.uk