Live park construction at the Bison X Park Show in Silvretta Montafon
Lagt til av: Espen Børresen | publisert: 04.04.2012
Nothing else shapes that well – PRINOTH showed off the abilities of the piste vehicle Bison X on 22 March 2012 at its ultimate park demo the "Bison X Park Show", which this year took place in Silvretta Montafon (AT).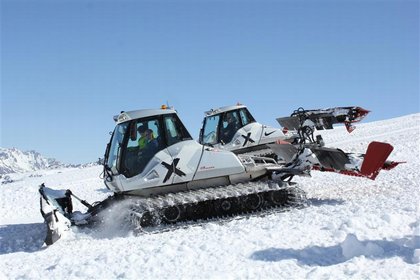 In a park specially constructed for the show near the massive fun park currently being built by Allgäu park professionals Schneestern for "Nike- The Chosen Sessions", the top contest for the rising stars of snowboarding, invited guests from Austria, South Tyrol, Switzerland and Lichtenstein watched two maneuverable Bison X machines build the perfect kicker in just under 40 minutes, which the international shapers from Schneestern then carefully finished by hand.

During the preparations for the jump, the two Bison X machines demonstrated their abilities and impressed the spectators with their explosive strength and maneuverability. With perfect teamwork, they very quickly created a jump which was then tested straightaway by 8 freestylers from the region. In a breathtaking freestyle show the youngsters showed off their skills and made the spectators hold their breath with their amazing jumps, while Dirk Scheumann, CEO of Schneestern, explained what was important in park construction, and why PRINOTH vehicles in particular are being used. "We are very satisfied with the machines. They are completely reliable, have incredible power, and are extremely suitable for work in the parks. Otherwise we would hardly be using them for the difficult construction of the Nike Park," said Scheumann about the advantages of the PRINOTH machines.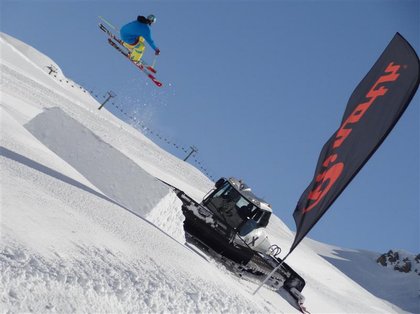 Hans Maierbrugger, Head of Sales for PRINOTH Austria, illustrated the advantages of the vehicle: "The Bison X is the perfect park professional thanks to its extreme maneuverability it is able to master the sharpest curves and most difficult jumps in any fun park. The exceptional maneuverability of the blade and the cutter allow refined shapes to be created in the park, while the joystick-in-joystick system comfortably permits parallel control of the most important functions."

Following the freestyle show, visitors had a chance to examine the two Bison Xs more closely, to find out details in a technical presentation and to take a seat behind the wheel themselves. Before the event ended with a friendly get together at the Grasjochhütte, many visitors took advantage of the chance to take a look behind the scenes at the Nike Park and to experience park construction from an unusual point of view.

Source: Prinoth