Trakkemaskin member on Euro tour
Lagt til av: Espen Børresen | publisert: 03.04.2012
Niseko's Kenji Hori takes his first trip out of Japan and makes it a big one!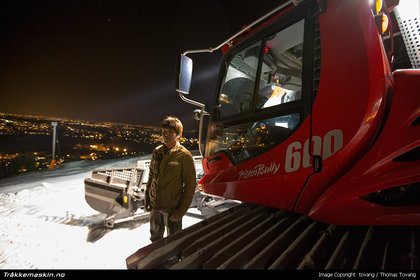 It is always amazing to see true passion and Tråkkemaskin members regularly show this with the forum and photos taken. Forum member Kenji has taken this to new levels with a massive European tour from Niseko Japan. leaving Japan on 22March, Kenji has travelled an amazing 17000 miles (27000km) through Germany, Switzerland, Austria, Italy, France, Norway, Scotland, England and Iceland.

On his journey Kenji visited Pistenbully Factory in Ulm, Titlis ski area, Innsbruck (Tråkkemaskin special place) Cortina Ski area Italy, Kirkerudbakken and Hafjell ski areas Norway and Hlidarfjall ski area Iceland.

A special thank you from Kenji and Tråkkemaskin.no to Luca Zesta, Thomas Tovang, Trond Bleka, Joey Viktorsson, Halli and others unnamed for entertaining Kenji on his tour.

An amazing tour, and a great example of how Tråkkemaskin.no can bring knowledge and people together in one great place.