LEITNER Ropeways Press release - The sky's always blue thanks to a new bubble
Lagt til av: Espen Børresen | publisert: 08.02.2012
LEITNER ropeways continues to expand across Eastern Europe This winter, skiers in the High Tatras (Slovakia) and Zakopane (Poland) will not only enjoy the new LEITNER ropeways chairlifts with their high-quality fittings they will also experience a very special innovation: the first chairlifts with a blue bubble, which LEITNER ropeways has created together with sports products manufacturer Scott. Two cableways that are clear proof of LEITNER ropeways' success in Central and Eastern Europe. With a new production site in Slovakia, LEITNER ropeways is certainly laying the tracks for continued expansion in these markets.
High-tech equipment, comfort, and innovative passenger experiences in
Tatranská Lomnica and Bia&322ka Tatrza&324ska
A new slope and an ultra-modern new chairlift: the range of services for winter sports enthusiasts has visibly improved in the Slovakian ski region of Tatranská Lomnica. The operating company Tatry Mountain Resort (TMR) focuses on both size and quality - and this winter, a new LEITNER ropeways chairlift will be bringing skiers to the family-friendly slope of Bukova Hora. It is the first 8-passenger chairlift in Slovakia and offers comfortable seating as
well as a full automatic station-parking system. In order to attract more winter sports visitors to Tatranská Lomnica from this winter on, a rather unusual step has also been taken: the 680 metre long chairlift, which reaches an altitude difference of 132 metres and can transport up to 2,400 people per hour, is the first detachable 8-seater chairlift in the world with a blue bubble. That way, the winter athletes in the Slovakian ski region will always have a blue sky above them - and it's all down to the collaboration between LEITNER ropeways and Scott. These extraordinary sights are part of a new marketing strategy, which is also valued in the Eastern European ski areas. Cableways are no longer simply functional, technical
facilities - by means of targeted measures and innovations, they ensure that passengers will enjoy a special experience and thus play a significant role in the marketing of the ski region. The new cable car in Tatranská Lomnica is positive proof that LEITNER ropeways is successfully expanding in Central and Eastern Europe with high-performance and high-quality installations.




In Poland too, a new LEITNER ropeways cable car has been put into operation in Bia&322ka Tatrza&324ska, the most important ski resort in the Zakopane region. The new 6-passenger chairlift Pasieka transports up to 3,000 people per hour, while the 1,070 metre long cableway surmounts an altitude difference of 172 metres. Great value is clearly placed on quality and top-grade equipment. In addition to LEITNER's comfortable seating, for
example, the new cableway also offers seat heating, kid stop and the particularly cost-effective direct drive mechanism, which reduces energy and maintenance costs considerably. The LEITNER direct drive - a gearless drive system for cableways – is unchallenged across the world. Already convinced by the technical advantages, the customer also awarded LEITNER ropeways the opportunity to generate greater attention and a different kind of experience for skiers with the new blue bubbles.




New production site for greater customer proximity and a better service
LEITNER ropeways has responded to the growing demand for high-quality cableways by establishing a new facility in Stará &317ubov&328a in north-western Slovakia. Since beginning of
2011, around 40 employees have been manufacturing cableway products on a 1,800 square metres site. A sales and service office is also located there. This new facility offers convincing advantages for both existing and future customers: thanks to its central location and short distance, LEITNER ropeways' cableway operators will benefit from an improved and faster service in future.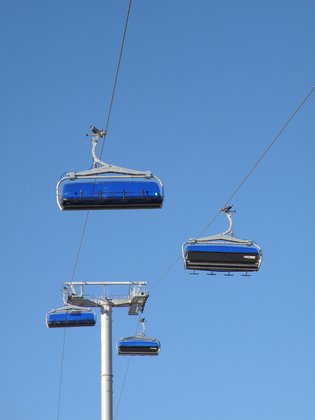 Source: Leitner Ropeways