Prinoth - 2013 World Ski Championships in Schladming - PRINOTH rolls out the white carpet
Lagt til av: Espen Børresen | publisert: 02.12.2011
While the preparations for the coming skiing season are getting into top gear, PRINOTH, the manufacturer of snow groomers, has landed a major coup. The company within the LEITNER Group has agreed a joint venture with the Planai & Hochwurzen ski area. For the 2012 World Cup Finals and the 2013 Alpine World Ski Championships in Schladming, PRINOTH will be taking care of the slopes for the top athletes and will be deploying no fewer than 29 vehicles. "We are proud to be able to groom slopes for the world's best skiers," said Werner Amort, President of PRINOTH AG, commenting on the joint venture with the World Championship ski resort.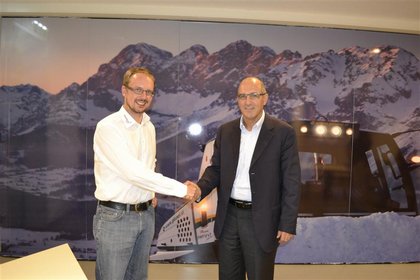 Sustainable slope technology
We will be using the very latest technology currently available for snow groomers. On the new Leitwolf, the first snow groomer to conform to Euromot III B standards, nitrogen emissions are reduced by 50 and fine particulate emissions by 90, when compared to similar vehicles. The Beast, the strongest and most efficient snow groomer in the world, can cover the same surface much quicker and at a lower cost than traditional vehicles, thanks to its extraordinary size and climbing power. Furthermore, the Husky E-motion, the first snow groomer with a diesel-electric drive, and suitable for everyday use, will be there in Schladming showing what it is capable of. The trend on the slope is towards clean, environmentally friendly technology. Planai and PRINOTH are taking a leading role in ensuring a green 2013 World Championships.

All in white
The Planai & Hochwurzen tracks have relied on the quality and service of PRINOTH for years. This cooperative venture in snow grooming at the 2012 World Cup Finals and the World Championships in 2013 arises from a sense of mutual trust. To comply with Planai's wishes, the 29 PRINOTH vehicles supplied to Styria will be painted in green and white. The area to be covered there amounts to 244 hectares, roughly the size of 400 soccer fields.



Service quality in the heart of the Alps
If everything is to run smoothly at the events, then what matters is the total package. So the exclusive provider to Planai & Hochwurzen will be making available not just its vehicles, but also its service facilities. This is vitally important, because in the end what matters is time. The manufacturer can guarantee the fastest possible availability on site of all snow grooming vehicle spare parts – this is a promise that we can make because we have a branch ideally situated in Telfs, near Innsbruck. As well as the service and logistics centre, PRINOTH's international spare parts warehouse is also located there.

Youth Olympic Games 2012
Live at the YOG 2012! PRINOTH is also the official supplier at the world premiere of the Winter Youth Olympic Games in Innsbruck and will be using its Bison X, the park pro, to shape the pipes and jumps at this prestigious event.

Source: Prinoth press release