Now @ Interalpin Exhibition: New machines and social gathering
Lagt til av: Ole Kristoffer Hole Olsen | publisert: 04.05.2011
Prinoth unveils their Leitwolf substitute at Interalpin 2011, on Thursday May 5th. at a social event in Telfs. By other words: The new Leitwolf will be available in the exhibition hall from Friday, May 6th. Trakkemaskin.no can already now reveal some of the important numbers and facts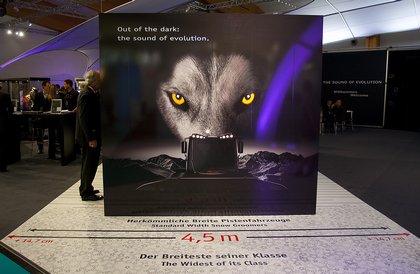 The successor of Prinoth Leitwolf - codename "New Leitwolf"
The representatives could not reveal if the name was changed or not, but it is no more a surprise that it is the Leitwolf which will be replaced with a completely new machine in the "Beast style" generation.

The first pictures of the "new Leitwolf" came in August 2010, so we had a brief overview of what to expect. Images from the testing process can be found here: Prinoth Leitwolf New Generation images

It will complete the implementing and consolidation of the product line, and cockpit commonality - the man-machine interface is now similar on all the alpin machines, with a hydraulic joystick to operate all hydraulics.

The drivers information centre is also in a common style, so if the driver switch between the four different Prinoth alpine machines - namely Everest, Bison, Beast and now the New Leitwolf - he will feel himself as home.

"New Leitwolf" features
- The heart is a 6-cylinder 12,82 liter Mercedes engine of 455 HP ECE, with a torque of 2200 Nm@ 1300 rpm
- It conforms with the Euromot IIIB standards, with an AdBlue system to reduce NOx and diesel particles exhausted to the atmosphere
- 4,5 meter wide footprint over tracks
- Hydraulic "New Prinoth" style joystick for cockpit commonality
- Minor improvements on the Powertiller
- New individual proportional hydraulic valve block
- Hydraulick suspension is achieved via dynamically adjusting actuators instead of the aluminium housing on the old Leitwolf and LH500

As a curiosity, we can mention that the new Leitwolf will come with an extra sylinder, to combine parallel swing and conventional swing of the tiller. Advantage is that you may swing the tiller out to achieve better overlapping during the spring slush, but you also have the ability to use the tiller as a rudder - to help steer the machine - in difficult conditions. The latter remains impossible on the Beast and the Bison with its "parallel swing only" patent. Take a look at the pictures on this page to see the rear equipment carrier: Rear equipment carrier

Pisten Bully
As pictures has shown us the last winter, the Pisten Bully 600 will be fitted with a 4,5 ton winch as standard. A basic feature of the 4,5 ton winch, is that the actual housing is smaller then its predecessors, giving the driver better view behind. The design of the winch is made for minimal servicing needs, and the cooling fan is now history.

The Pisten Bully 400 will from the 2011/12 season, be delivered with an active winch boom on the 4 ton winch as an option.

For those interesting in the Formatic 350, there will be good discounts given during the Interalpin Exhibition.

Another interesting news is that the Pisten Bully 600 Polar finally can be ordered as park edition from the factory. Boost up you park performance with a Pisten Bully 600 Polar Park!




Alpina Snowmobiles
The Brand new workhorse Sherpa 1.6L VCT 16 Valve double belted scooter, is presented at the exhibition. It proved its excellence in a demanding environment at the Crosscountry World Championship in Oslo 2011.

It has an 115 HP automotive 1.6 liter engine, conforming with the automotive EURO-5 and EPA regulations. It has a "two-gear forward" gearbox, with chainless direct drive system.

The Sherpa 1.6L VCT is 1,44 meter wide and 3,48 meter long without additional equipment attached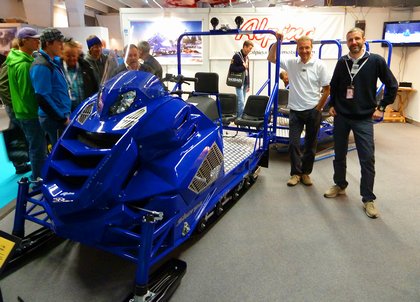 @ Interalpin, writing for Trakkemaskin.no - Ole Kristoffer Hole Olsen and Espen Børresen