High Tech On the World Cup Slopes
Lagt til av: Espen Børresen | publisert: 19.01.2011
A race course with optimal grooming on the Chuenisbärgli is not merely the result of countless man-hours of work, but also of highly-sensitive technology and raw horsepower.
Trykk for større bilde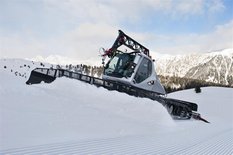 The Beast winch © prinoth

In Adelboden, there was a thaw on Thursday. The warm wind drove the clouds over the Wildstrubel, transforming the powder into heavy, wet snow. The assistants began to break out in a sweat. At the finish line area on the Chuenisbärgli, the preparations for the World Cup weekend were going full steam ahead.

Hans Pieren, the race director, issued an invitation to visit the course. "The sudden warm weather is a challenge for the course and the organization," he admitted in the chairlift up to the starting line. We slid down to the final slope. In spite of the high temperatures, it seemed as if the weather had been ice cold for days: the snow remained unyielding and, in places, with a bluish gleam. "The course is in excellent condition," commented the race director. "The main reason is that we pumped so much water into it." A total of 2.5 million liters (660,000 gallons) of water had been sprayed into the snow over the last few days, in some places over a meter deep. "The hardness of the course actually serves three purposes: firstly safety, secondly fairness, and thirdly, it ensures that the race will be run. Even if it's raining and the temperature rises, the course still can't melt because of that."

Mr. Pieren maneuvered next to the course and came to a stop in front of a silvery snow groomer. It was not just any one, but rather the largest in the world, and the only one of its kind in Switzerland. Adelboden is keeping the colossus on loan for the race, in order to test it under extreme conditions. "It's around a meter wider than other snow groomers, it has better grip, and it's faster." The tracked vehicle by the name of the Beast boasts 530 HP and weighs in at nearly fifteen metric tons. Having arrived at the finish line, Hans Pieren glanced back at the optimally groomed slope and smiled. There was nothing more standing in the way of a successful ski celebration in Adelboden.

Source: www.prinoth.com
Bildegalleriet har 23084 bilder!
Velkommen til Tråkkemaskin.no! På denne siden finner du den største oversikten over bransjenytt, det største bildegalleriet, den ferskeste diskusjonen og mye seriøs fakta!
Siste 20 Screeners Choice