The integration of TråkkeMap is taken one step further
Lagt til av: Ole Kristoffer Hole Olsen | publisert: 08.01.2011
We have today integrated TråkkeMap further to the webpage, by allowing the users to go directly from the variety of photosearches and to the correct geopointer on TråkkeMap.
Trykk for større bilde
TråkkeMap har fått en shining, og integreringen mot bildedatabasen er forbedret © tråkkemaskin.no

You may access the TråkkeMap directly from the photosearch using the icon next to the questionmark as shown on the picture below (click to view):




Scope of view
When you surf at TråkkeMap, you will notice it is smoother. When you click on a skiresort within the scope of view, the map isnt realigned to have the new resort in centre as before, but you will notice a ring around the specific skiresort to maintain a better orientational awerness. For the same reason, the zoom level isnt changed either.

Google Chrome
We strongly recommend users of TråkkeMap to use Google Chrome, due to extreme difference in how the Google Map code is treated by the different browsers.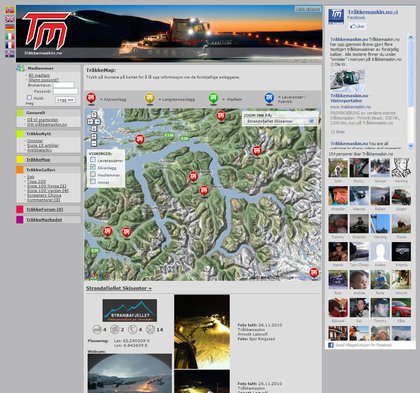 Below the mapview, you have a large variety of information from the skiresort currently selected on TråkkeMap:
- Geographic coordinates
- Skiresorts logo
- Basic information about:
Groomers
Gondolas
Chairlifts
Surface lifts
Slopes
- Webcams
- Last approved photos from the skiresort

If you iterating around between different skiresorts, you notice a ring coming up around the skiresorts you are selecting. This painted ring makes it easier for you to have control of which skiresorts you have visited during your stay on TråkkeMap.




When you click on a new skiresort, the information below the mapview is updated according to which skiresort you have choosed to gave a visit.

Language translation
The TråkkeMap isnt fully translated yet, but we will implement the translation as soon as possible. So long we encourage you to test it "untranslated". The TråkkeMap is intuitive, so the translation depends most on users comfort.

:) Happy grooming and happy TråkkeMap'ing!
Ole Kristoffer Hole Olsen
Bildegalleriet har 23084 bilder!
Velkommen til Tråkkemaskin.no! På denne siden finner du den største oversikten over bransjenytt, det største bildegalleriet, den ferskeste diskusjonen og mye seriøs fakta!
Siste 20 Screeners Choice