Prinoth - Husky E-motion
Lagt til av: Espen Børresen | publisert: 04.10.2011
As a leader in innovation and technology, PRINOTH actively responds to the challenge of making slope grooming more environmentally compatible, and as of today it is presenting the Husky E-motion, a snow groomer with diesel-electric transmission for everyday use.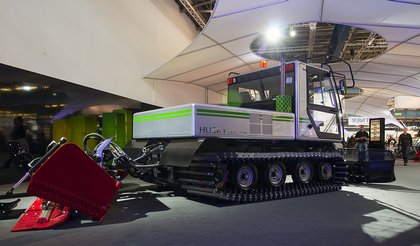 With "Clean Motion" PRINOTH describes its efforts to make slope grooming cleaner and more environmentally friendly. In using cleaner technologies, the demands of ecological and economic sustainability are combined with a raised sense of social responsibility.

In order to make the use of resources efficient and sustainable in the preparation of ski slopes in the winter, the central development goal of PRINOTH's engineers is to raise the efficiency of snow groomers and thus lower fuel consumption and CO2 emissions of the vehicle traffic in the long term without having to accept any loss in performance.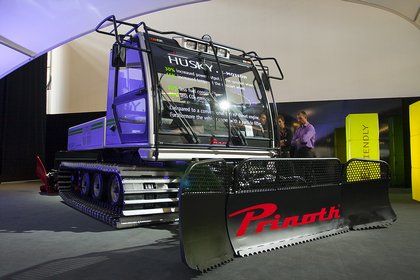 The environmentally oriented model of the all-rounder for cross-country trails and downhill slopes, the Husky E-motion, focuses on diesel-electric solutions which are entirely operational and suitable for everyday use and which replace the hydrostatic drive. At the same time, a diesel engine equipped with a particulate filter drives an electrical generator. The electricity thus generated is used for transmission of the agile and high-torque electric motor. Intelligent power management of the traction drive therefore enables a higher degree of efficiency as well as considerably lower diesel consumption. Simultaneously, increasing the available power and torque at the drive wheel, thus, enable fuel savings of up to 20.

Husky up close
This coming winter, the Husky E-motion is already going on a demo tour and will be presented to Austrian customers. The message of attaching importance to the environment and climate protection is catching on.

At a glance:
30 more power, 15 more torque at the drive wheel with 20 less diesel consumption or CO2 emission




Source: www.prinoth.com