Cost saving with snowMeter
Lagt til av: Espen Børresen | publisert: 04.01.2010
A winter sport resort without snow is like a human without a heart. Like the heart is vitally important for a human being the "white gold" is essential for any ski region in order to ensure its economic survival.
Trykk for større bilde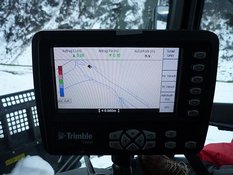 Control Box installed within drivers cabin. Clearly arranged visualization of the machine and snow height during operation (measured underneath the crawler right behind the cabin). ©

Therefore the persons in charge have a major interest presenting snowy hillsides and perfectly prepared slopes to their guests. Thus in turn requires an enormous operating expense for working hours, machine usage and energy consumption (electrical power and water).
KLENKHART & PARTNER Consulting based in Innsbruck together with TRIMBLE a market leader for satellite positioning and surveying launched a system assembled from well proven industry standard components deployed on dozers, graders and excavators: snowMeter

SnowMeter allows systematic snow production, even distribution of snow cover therefore an improved slope quality. This snow measurement system is a cooperation between KLENKHART & PARTNER Consulting and TRIMBLE. TRIMBLE known as a market leader for satellite positioning and surveying offers a global network of strong distribution partners like GEODAESIE AUSTRIA for the Austrian market. GEODAESIE AUSTRIA is been recognized as the market leader for 3D Machine Control solution provider for Heavy and Highway industry needs.
TRIMBLE and GEODAESIE AUSTRIA offer and service the required equipment for snow measurement which is already well proven on heavy duty construction machines all over the world.
GIS Specialist DI Peter Hartl MAS from KLENKHART & Partner Consulting: " We supply the necessary data preparation for snowMeter including the compilation of official Laser scanning data into a digital terrain model. On request we're able to provide the whole data management associated with our Operation information and Management system skiGIS. The skiGIS data are displayable in the onboard machine Controlbox helping the machine driver to avoid damage to invisible snowing slots lower floor.

How does snowMeter work?
You can distinguish between two different GPS based systems: Dual-GPS systems providing two GPS antennas and Single-GPS systems providing only one GPS antenna in conjunction with a slope sensor. In order to achieve the required +/- 3 cm precision additional GPS Correction Data are required. These Correction data are received via radio communication either from a locally installed Base Station or directly from the internet through a GPRS Modem. It depends on the environmental conditions (free visibility to satellites, GPRS availability, etc.) which technology might suite best for the relevant ski resort.
The necessary snowMeter machine setup is performed quick and trouble-free: the GPS receiver and antenna reside in a common housing with only one cable attached to the machine. Inside the drivers cabin a Control box provides a clearly arranged display allowing an intuitive operation. It provides the ability to set the desired snow height in the run up of machine operation.
Hartl: "During operation the machine is monitored in the display of the control box. At the same time the actual snow height in cm accuracy is displayed as well (measured underneath the crawler right behind the cabin). Experience already showed that the required accuracy of 5 to 10 cm is easily met. It is possible to record all data during machine operation and evaluate them afterwards with skiGIS. Thus you're able to create an exact report about the actual snow distribution within the ski resort in order to map out a strategy for an optimized resource usage (water, electrical power)".
Another feature of snowMeter is the possibility of easily reading the respective snow height through a colour code displayed in the Control Box. Additional Light bars installed at the foot well of the cabin indicate the actual snow height at any given position within the area of the digital terrain model during operation of the machine.
SnowMeter is in the field at Ski resort Hochfügen since October 2009. All available options are being tested.

Successful snowMeter field test at Hochfügen
In this case the snowMeter system was installed on a Pistenbully 600. Operations Manager Josef Fiechtl from the company Skiliftgesellschaft Hochfügen about his reasons for field testing snowMeter:"Our main focus is on snow efficiency. We're interested in precise information about the amount of snow at any given position within the ski resort in order to optimize our technical snowmaking capabilities. While using the slopes the skier move a lot of snow. With the support of snowMeter I can easily determine where sufficient snow cover is already given, where to remove snow and finally where to push surplus snow. This is very important especially during spring". Mr. Fiechtl observes the snowMeter functionality since October 2009 when the field test started. "I'm amazed about the accuracy of the displayed snow height since the terrain model was created digitally.
Another advantage of snowMeter is its ability to recognize sewer slots and snowing slots lower floor during machine operation. Furthermore this system can be used for finding slots as well. In addition the cost saving potential for electrical power and water consumption is eminent. This is great! I believe this system will become standard for snowgroomer in the next couple of years. Operation of snowMeter is relatively easy and the deployed hardware is rugged and reliable. Of course, the equipment acquisition will be costly but the return of investment will be clearly noticeable after a short period of time".

Source: www.ropeways.net
Bildegalleriet har 23084 bilder!
Velkommen til Tråkkemaskin.no! På denne siden finner du den største oversikten over bransjenytt, det største bildegalleriet, den ferskeste diskusjonen og mye seriøs fakta!
Siste 20 Screeners Choice