Drømmeforhold fyller bakkene
Lagt til av: Espen Børresen | publisert: 29.12.2009
Nysnøen lokker folk til alpinbakken.
Trykk for større bilde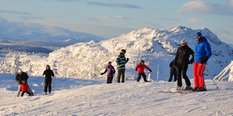 Fjerdedag jul strømmet folk til Kvitfjell i sola- © Kvitfjell

Det var relativt stille i bakkene i Kvitfjell de første dagene i jula. Men fjerdedag jul skinte sol på all snøen som har lavet ned, og trafikken tok seg opp.

- Det er flere her i dag enn det normalt og i forhold til samme dag i fjor, sier markedssjef Eskil Solberg i Kvitfjell mandag.

Femte- og sjettedag jul er de dagene hvor flest trekker til alpinanlegget. Forholdene ligger godt til rette for skihungrige.

- Vi har en såle på 60-70 centimeter, og så ren pudder opp til 1,20 meter. Og det er igjen inversjon- det vil si at det er best å komme seg opp i høyden, forteller Solberg.

Mandag var det minus 10 grader på toppen av bakken, og minus 18 i bunn ved Gudbrandsdalslågen.

Ellers melder Kvitfjell om godt belegg på alle overnattingsstedene nyttårshelga.

- Det er nær fullsatt til nyttår, sier Solberg.


Kilde: www.gd.no
Gallery has 23079 photos!
Welcome to snow-groomer.net! On this webpage you will find the biggest picturegallery, the newest discussions and a lot of serious facts! The english version is brand new, and expected to grow quickly!